Obamacare: Myth versus Reality
With the results of the 2008 Presidential and Congressional elections now in the history books, the winners must look ahead to implementing the changes they promised during their campaigns. Much has been written about the various presidential healthcare reform proposals, including several white papers by respected "think tanks" in the past two months. This article examines myths about President‐Elect Obama's proposed health plan, as outlined during his campaign for President. Based on the outcome of the recent election, implications for hospitals and health systems are identified. The sidebar below highlights the key features of President‐Elect Obama's proposal for healthcare, or "Obamacare."
Key Features of Obamacare
Continuation of current employer‐based health insurance system
Mandate for employers to "play or pay"—provide insurance for employees or pay a fine, with an exemption for "small" businesses (no definition of "small," nor any specifics on fines)
Expansion of Medicaid and SCHIP (State Children's Health Insurance Program) to cover more low‐income children and families
Mandated insurance coverage for children under 18
Creation of the National Health Insurance Exchange (NHIE), a pool of public and private insurance plans, for those without employer‐sponsored health insurance
Subsidies for low‐income Americans to purchase insurance
Guaranteed issue of health insurance policies; no exclusions for pre‐existing conditions
Estimated cost: $1.6 trillion in first ten years (Tax Policy Center estimate, September 2008)
Despite the passionate rhetoric of the campaign trail, President‐Elect Obama will be stepping into a hornet's nest in January, with high expectations and limited financial resources. Experts examining the future of Obamacare have identified several myths:
Obamacare will bring a major overhaul to the healthcare industry.
Obamacare will create government‐sponsored healthcare.
Obamacare means the Massachusetts model on a national level.
Obamacare will be funded by rollbacks of taxes in the highest income brackets.
Which of these myths about "Obamacare" are accurate?
Setting the Stage
A few key facts about healthcare, the economy, and elected leaders will dramatically influence the trajectory of health care reform in the next administration.
Healthcare is a "big ticket item" in the federal budget, and expected to increase. Of the $3 trillion in federal outlays planned for fiscal year 2009, just over twenty percent are for the Medicare, Medicaid, and SCHIP programs, or more than $600 billion combined.1
A national economic crisis is looming and is coupled with soaring national debt. Stocks have been in free fall for the past few months. Congress has promised Wall Street $700 billion to aid economic recovery, and many experts anticipate that the economy will worsen before it improves.
The election brought Democratic leadership to Congress but not at a "filibuster‐proof" level. At the time this article went to press, Democrats control 57 Senate seats, a gain of 6 seats, but short of the sixty to override a filibuster attempt.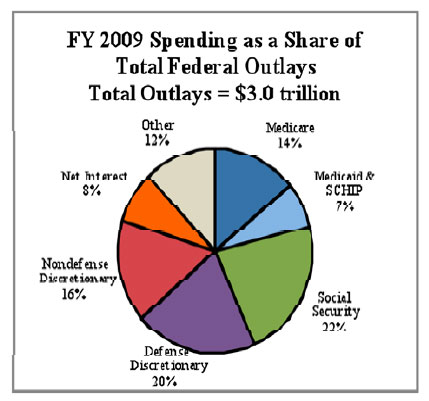 Myth #1: Obamacare Will Bring a Major Overhaul to the Healthcare Industry
Reality: Not likely
Obamacare represents more incremental change to the system rather than a major overhaul and would maintain much of the status quo. Obama's plan includes the continuation of employer‐based healthcare insurance. There are no significant changes proposed for Medicare, and the primary changes to Medicaid and SCHIP programs involve increasing thresholds for enrollment, to increase access to these low‐income health insurance programs.
Most Americans would not see a change in their insurance coverage, especially in the short term—most workers would still obtain insurance through their employers. Longer term, the health of the economy will be a large factor in health insurance coverage. If the U.S. faces a major and prolonged recession, the ranks of the unemployed would rise along with those Americans without employer‐based insurance.
The national "appetite" for major health reform is unclear. Economic realities underscore a general concern about the future for many Americans, reducing the tolerance for expensive reforms.2
Myth #2: Obamacare Will Create Government‐Sponsored Healthcare
Reality: Unclear
This belief depends on how "government‐sponsored" is defined. Nearly half of the current bill for healthcare in the United States is already paid by state and federal government dollars—in the Medicare, Medicaid, and SCHIP programs.3 At this point, Democratic Congressional leaders have identified SCHIP expansion as the most likely reform to occur during the next few months.4,5 However, SCHIP is by far the smallest of the government health programs, both in terms of federal/state monies and numbers of covered patients. If this is the primary reform in the first year of Obama's administration, it would not be a substantial change to the current distribution of healthcare costs between government and private payers.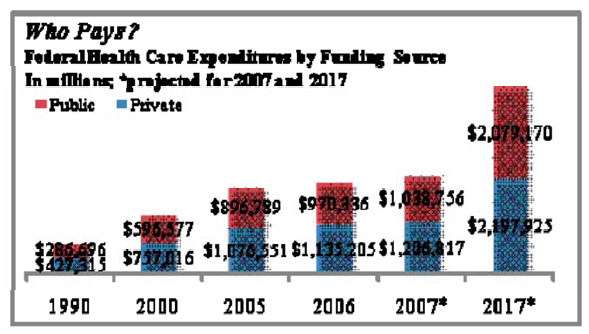 Over time, substantial government subsidies would be provided to lower and middle‐income families to purchase health insurance. This could result in a shift from private to public funding, as public monies would be used to purchase (public and private) insurance products. However, the current economic realities facing the nation are likely to depress public and Congressional support for such subsidies for health insurance.
Myth #3: Obamacare Means the Massachusetts Plan on a National Level
Reality: Yes and No
The recent reforms in the state of Massachusetts are the closest model in the United States to Obamacare. Like Massachusetts, Obamacare creates an exchange for purchase of private insurance products, requires insurers to issue coverage to all applicants, and sets premiums. There would be subsidies available to lower‐income families.
However, unlike Massachusetts, where individuals must obtain insurance or pay a fine, Obamacare mandates health insurance coverage only for children—adults could forego insurance coverage without penalty.
The good news: Massachusetts has seen a drop in its uninsured population to around one percent—the lowest of any state in the U.S.6 The bad news: the costs associated with these far‐reaching state reforms have far exceeded estimates, as has demand for healthcare services in the state, resulting in severe access issues.7
Myth #4: Obamacare Will Be Funded by Rollbacks of Taxes in the Highest Income Brackets
Reality: Not likely
Rollbacks of the Bush tax cuts scheduled to expire in 2010 have been promised for a great number of initiatives, from rebuilding the military to reducing the federal deficit. Given the recent financial services bailout and stimulus packages passed by Congress, incremental expenses would require additional tax increases (beyond the scheduled phase‐out of the Bush tax cuts) or funding cuts elsewhere in the federal budget. Social Security, Medicare, Medicaid, SCHIP, and fixed interest expense payments accounted for approximately 51 percent of the FY 2009 federal budget; this leaves just under half of the $3 trillion in federal spending—much of it defense spending—available for cuts.8
Plan architects have suggested that cost savings from technology and efficiency gains in the health system could help to offset the costs associated with Obamacare.9 These cost savings would be slow to develop, and alone would not be sufficient to fund the plan as described. Proposed initiatives might save some money in the long run, but would be unlikely to generate savings sufficient to offset the entire expense. Which begs the question: how would Obamacare really be funded? Stay tuned for details as they emerge.
Conclusion
The long and hard‐fought race is over, and uncertainty about the future leadership of the country is largely resolved. The results of the election, however, are not necessarily decisive regarding what Americans should expect in healthcare over the next few years. Economic challenges in the U.S. economy are likely to curb enthusiasm and payment for major reforms to the health system in the short run.
For now, hospitals should expect more of the same under President‐Elect Obama's administration. Given the balance of public and private payment for healthcare, hospitals should continue to focus on improving the profitability of Medicare and Medicaid patients. Hospital trustees in turn should continue to monitor leading financial ratios for shifts in market dynamics; in particular, payer mix and days' cash on hand may be early indicators where a detrimental shift does occur.
The Governance Institute, BoardRoom Press – December 2008
Marian C. Jennings, M.B.A., President, M. Jennings Consulting, Inc.
Amy B. Hughes, M.H.A., Vice President, M. Jennings Consulting, Inc.​
› Download PDF
1 Kaiser Family Foundation estimate, www.kff.org.
2 Anna Wilde Matthews, "Health‐Coverage Plans Could Face Obstacles From Growing Budget Gap," The Wall Street Journal, October 27, 2008.
3 Centers for Medicare & Medicaid Services, National Health Expenditure Data.
4 SCHIP is scheduled to be reauthorized in March 2009, forcing the administration to consider this program almost immediately. Experts believe that SCHIP will be reauthorized and expanded to cover more low‐income children.
5 "Congressional Democrats Say They Will Use Expanded Majority to Consider SCHIP Expansion, Other Issues, but First Will Address Economy," Kaiser Daily Health Policy Report, November 6, 2008.
6 Amy Goldstein, "How They Would Change Health Care: Obama," The Washington Post, October 29, 2008.
7 Ibid.
8 Kaiser Family Foundation estimate, www.kff.org.
9 Anna Wilde Matthews, "Health‐Coverage Plans Could Face Obstacles From Growing Budget Gap," The Wall Street Journal, October 27, 2008.